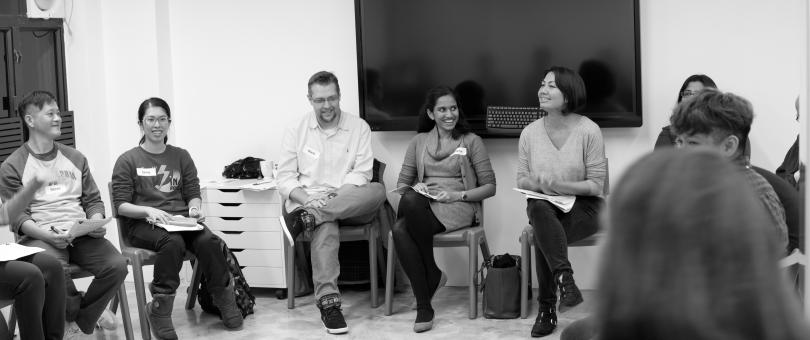 A few months ago, we shared some top tips for taking the CertTESOL from a former trainee on the course.  In fact, even before deciding to take a certificate course in TESOL, many people spend a long time simply trying to figure out the difference between TESOL, TEFL, ESL and ELT courses and choosing the best one for them.
I often say that one of the best ways to guage the merits of a course is to look at the workload involved.  So, here we've asked two previous trainees to share their thoughts and comments on managing the workload, to give you a first-hand idea of what's involved.
Lisa joined our CertTESOL course in September 2015.  As a highly experienced full-time primary school teacher at an international school in Hong Kong, she said she had decided to enroll on the course because she had many students whose first language wasn't English, and she was hoping to get some additional skills for teaching and clarifying language that would help her to support these students.  In discussions with Lisa towards the end of the course, I got the distinct impression that the course had thrown up many challenges that she hadn't expected – albeit challenges that have helped her to improve her own teaching.
CertTESOL assignments: do some background reading!
Make sure you do some background reading and cite this in your assignments. It indicates that you are willing to go above and beyond your current level of knowledge and understanding and to seek out information that increases your ability to understand the communicative approach to teaching English. Read the exemplars of written assignments available at English for Asia so you have a benchmark as to what is expected. Ensure your written reflections truly reflect how your attitudes and understandings are changing throughout the course. Being a reflective practitioner will help you improve as a teacher.
Participation: find out about the others on your course.
Take the time to get to know other trainees taking the course. Each person has a unique background and tapping into their knowledge and skills can help you complete assignments to a high standard and deepen your understanding of English language learning and teaching. As a group, be sure to have discussions after your Unknown Language classes. This may help you with your comparison of English and the unknown language, as well as your reflections on learning a new language.
Talk about lesson planning and learn how others approach planning and teaching. It really helps to bounce ideas off each other as you plan lessons and to get feedback on what you plan to do. It is also just nice to talk with other people going through the same experience as you. When you are struggling, talk with someone in your class. They may also be struggling or they may be able to offer you some help or advice. Support each other and you will do fine!
Managing the workload: be organized, plan your time.
I am a full-time teacher in a very large and busy international school. I also have two young children who love to play with me! During this course, I needed to ensure that the needs of my family were met and the teaching and the learning in my classroom remained at a high level. However, I knew that I would need to give up a number of things in order to successfully complete the work for this course. I gave up my very early morning exercise routine and, instead, worked on my assignments for an hour each morning. I went to class early so I could get advice on assignments and lesson planning. Instead of hiking on Sundays, I did my coursework. During my lunch and break times at work, I did my coursework. I kept in mind that it was only for twelve weeks and marked off each day on my calendar. This helped me to keep my mind focused on the bigger picture.
I organized the notes from the input sessions into a big binder and I took notes in a note book. I would recommend not doing this, as it became difficult to match my notes to the input session in which they were written. Instead, I would recommend taking notes on loose leaf paper and adding them in behind the handouts received during the input session. All this should go into a big binder for easy reference. I found I referred to my notes and handouts quite often when completing assignments or lesson planning.
Language awareness: use the starter pack!
I felt very anxious about my language awareness prior to starting! The Starter Pack raised my anxiety level even further! During the course, I did some background reading on grammar and punctuation, as needed for planning lessons and completing assignments. For some of my lessons, I challenged myself to choose learning outcomes that would take me out of my comfort zone and require me to learn something new. I also did mini-lessons with my own class of young learners that helped me to work on my language awareness. They were particularly helpful with IPA translations and phonology. One resource I found helpful was Practical English Usage by Michael Swan.
Overall top tip….Do not get behind in your assignments! There is no such thing as a "day off" during this course, so make the most of every minute of every day!
Danny joined our CertTESOL in 2015, having work as a NET teacher for many years in a local school in Hong Kong.  Danny was after a teaching qualification that would grant him greater recognition and access to career pathways that he was unable to access without the CertTESOL because he felt he needed some additional training and teaching knowledge to offer his students a better learning experience.
The written assignments
The written assignments can often be frustrating as they require a lot of time to complete. Personally I found the majority of the assignments to be quite boring as my main focus is to improve my ability to teach students. However the assignments can give you an insight into the reasons behind certain teaching practices and why which ones are more beneficial than others. My advice for these assignments would be to constantly take notes during the lectures as the information from the tutors will help improve your grades.
Participation
I felt I had been fairly warned about the intensity of the workload on the course during the course therefore I didn't find it too stressful. Dedication and hard work are required, but if you're unprepared for this then you shouldn't be entering into the world of education in the first place. It's also important to remember that this course is aimed to improve your capacity to teach English as a foreign language. It's NOT a competition between trainees. Therefore, help your fellow participants. Share ideas, experience and resources and work together to produce the best work possible.
Managing the workload
Time management is key to handing the workload. You must set aside adequate time to complete all the assignments and not leave them until the last minute. The bottom line is that this course is hard work and you must be prepared to graft and pay attention the minute you step foot into the classroom. If you wish to be a teacher and more importantly a good teacher you must be capable of adjusting to a high workload.
Language awareness
I never felt anxious during the course as I already have experience in teaching. I feel the course greatly improved my language awareness especially my understanding of grammar. The most useful resources on the course are the tutors. The tutors are very approachable and highly knowledgeable on all aspects of the course. Trainees should take advantage of this excellent resource and utilize all the experience that the tutors possess.
Overall top tip
My overall top tips are to manage your time well, focus on your teaching within the classroom and take time to talk with students and get feedback from them. This course is aimed to make you a better teacher. It's not about personal egos or gaining an advantage to make more money, it's about improving the ability of students. Keep this ethos in your mind and you will take the best aspects of the course away for your career.
If you'd like to know more about the CertTESOL to decide if it's worth your time and money, why not come along to one of our CertTESOL taster sessions at our centre in Hong Kong?