What's it like to work in EFL in Hong Kong?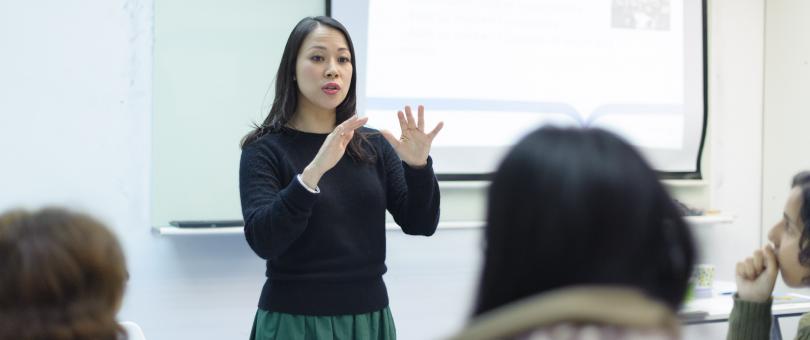 I often get asked what it's like to work in TEFL in Hong Kong and having had over 10 years working in a variety of TEFL academic contexts here, including one-to-one tuition, as a NET teacher in local schools, kindergartens, learning centres and reputable (and disreputable!) language training organisations, it's probably safe to say I've taught in all possible teaching contexts in Hong Kong. Depending on your forté, be it young learners, very young learners, adults, business English or exams, there really is something for every teacher here.
The important stuff: What's the pay like?
Hong Kong ranks as among one of the higher paying countries for ESL / EFL teachers worldwide. While not as lucrative as working in the Middle East (hello, tax free salaries!) the pay is considerably better than Europe (as much or more than double the hourly rate). Tax starts at a relatively low at 17%, and increases over a certain threshold. The pay varies from institution, with learning centres probably paying the lowest at around HK$250 per hour, though reputable organisations such as The British Council pay much more. The local school system has implemented the Native English Teacher scheme, recruiting qualified English teachers at a base salary of HK$26,785, rising to a maximum of HK$51,805 depending on years of experience and qualifications.
What's it like to work in Hong Kong local schools?
Teaching young learners is big business in Hong Kong, and if you have the chance to work in a local school, take it! It's an excellent experience. Hong Kong young learners are generally very engaging and motivated and love to use their English through fun, interactive games and tasks. The traditional style of learning in schools is still very Confucian, emphasizing memorization and rote-learning though this is changing rapidly as the Hong Kong government implemented sweeping educational reforms in the secondary sector three years ago, to encourage critical thinking and inquiry-based learning. This has trickled into the primary sector and schools and learning centres now seek to widen the repertoire of language-learning activities. It's common to find extra-curricular classes such as English in Drama, Art through English, Creative English, etc.
That said, schools vary widely, following a banding system of 1-3, with Band 1 schools seen as the most elite and prestigious, with a higher proportion of near native speakers in the schools. Band 3 schools tend to have the weakest, lower level learners. I have worked in schools in all bands and find them to be just as satisfying and enriching. Band 1 learners are able to produce a very high standard of English and work and are usually very intrinsically motivated and curious. Demotivation tends to be the biggest problem for Band 3 learners. They often respond very well to more communicative games and tasks which focus on speaking and listening (so unlike their normal lessons).  While they may need more coaxing, the progress you see in these learners is often faster and more rewarding.
Timetables vary; typically you'll be expected to be at school around 8am and stay until 4:30-5pm, regardless of the amount of lessons you teach. In some schools teachers see their classes every day for an hour. In others, you may only teach one class twice a week for 30 minutes. You may also be the only NET teacher in the school. If your colleagues don't speak much English, it can be a little isolating. For primary schools, some Saturday work might be required for Parents Days, school admission interviews and school events, in which you will often be asked to play a role or starring part (from guide, to interviewer or MC).
What's it like to work in learning centres?
Learning centres tend to be more flexible in the contracts they offer, so if you are looking to supplement your income with some part-time work, a learning centre is a good option. Most learning centres cater to young or very young learners (from 6 months- 10 years). There are also tuition centres for secondary students and immersion centres for adults. Hourly rates vary and most work takes place in the afternoons, evenings and weekends. Learning centres tend to be much smaller, with classes of up to 10 students. Levels tend to be mixed as classes will generally cater for age, though some do cater for level. It's not unusual to see exam classes for young learners, such as Trinity GESE, Young Performers Certificate, Speech Communication Arts, etc.
What's it like to teach Business English?
Business English students are mainly from the corporate world, though many are in the service industry (hotels, airline cabin crew, etc). Some companies will hire you to teach a class, while others will hire you to teach individuals. Again levels vary, though pay can be very lucrative (upwards of HK$500 per hour). Companies generally seek experienced teachers with a strong background in business. Business English students are highly motivated and time-short so lesson planning has to be very targeted and effective.
Surviving your first teaching year in Hong Kong
My best tip is to make friends with your colleagues and go to them for support. Even learning a little Cantonese goes a long way with them and you will find their support invaluable. Bringing in the odd batch of home-made (or store-bought) cupcakes or muffins will garner you many brownie points! 
Get on the principal's good side by being proactive, making suggestions, resources and improvements where you can. Often teachers pull double duty by leading lunch-time or afterschool clubs. If you have a particular passion in one area, such as sport, music, drama or art, why not ask to lead an afterschool activity or a course? Passion, creativity and enthusiasm are what most principals seek in a NET teacher.
Working in Hong Kong brings many challenges but the rewards and sense of satisfaction are immense. Stay tuned for more articles on life and teaching in Hong Kong!
If professional develompment is not happening at your school, why not join one of our upcoming teaching skills workshops here in Hong Kong.