My journey to becoming a teacher trainer: Eve Conway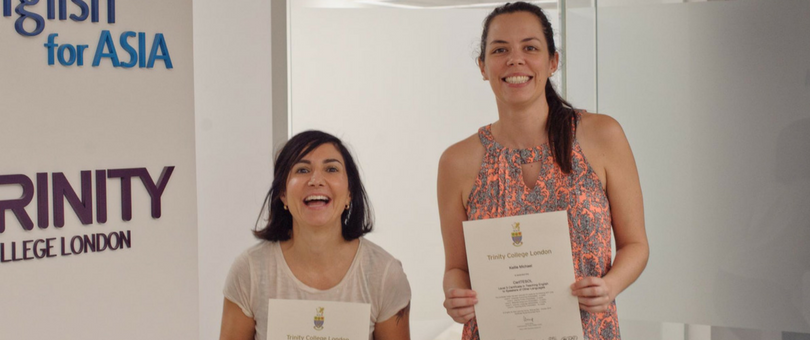 Amongst teachers, becoming a teacher trainer seems to be quite a popular career goal. However the reality is that there is actually quite a small proportion of jobs available compared to the number of teaching jobs, so potential would-be trainers might find themselves waiting for years before they get the chance to actually train. A quick search on TEFL.com shows that at the moment of writing, there are 10 jobs listed under 'teacher trainer' compared to 468 listed under 'teacher'. One popular school of thought in the industry seems to be that you need to be 'in the right place at the right time' to get into training. A brief look at the comments feed on this blog post by Scott Thornbury confirms that a lot of teachers and trainers tend to hold that opinion. To an extent, it is true, but I would argue that rather than just being in the right place at the right time, you need to be ready to train at the right time.
My own Journey
For me, teacher training was something that I wanted to do almost as soon as I started teaching. I come from an English and Linguistics background and had dabbled with the idea of a PhD in linguistics before going into lecturing, but I realized that for me, the research responsibilities that went along with being a university lecturer were not really where my interests lay. I enjoyed being in the classroom rather than in a dusty office. I finally got my first full time teacher training job last year, after 9 years of classroom teaching. I don't particularly feel that I was just 'in the right place at the right time', rather that I had been proactive and taken concrete steps to get the job. Below I'll share some of the things that I feel helped me to be ready to train.
Getting experience: your first year
In my first 18 months of teaching I had 3 part time jobs simultaneously. That allowed me to immerse myself in teaching adult general English, corporate classes for multi-national countries, Young Learner classes and Exam Preparation classes. I feel that this gave me a good initial insight into the types of work that were available in the industry, strengthening my basic knowledge and skills working with different types of learners. In your first year it is a good idea to do as many types of different classes as possible, to gain breadth of experience.
Later on, specialise in something
After a few years, I specialised in teaching primary learners and had a couple of years of almost completely teaching young learners. I took extra qualifications in this area to help me feel more confident. Later, there was the opportunity for me to specialise again in teaching Early Years learners (children from 2-6 years old) for which again I took an extra qualification. In terms of teacher training, there are very few TESOL teacher trainers out there who have extensive experience working with learners under 6 or training kindergarten teachers, so I feel that almost gave me a unique selling point. If you are wanting to specialise it can be a good idea to feel out the industry and try to specialise in an area that not a lot of teachers specialise in and get good at it.
Get qualified
On my career journey, I took a Trinity Cert TESOL course, I took a Trinity Dip TESOL course, I took a Trinity TYLEC course. I took a course in the UK Early Years Foundation Stage Framework. I took an MA in Applied Linguistics and Second Language Acquisition, I took a course in supporting learners with SENs and I'm currently taking an E-moderation certificate. I don't think I will ever stop studying and taking courses. All of these helped me to build my CV. As a rule of thumb, Masters' degrees and diploma level qualifications like DELTA and DipTESOL tend to be a requirement for TESOL teacher trainers, so they are good things to consider doing.
Position yourself within your workplace and within the industry
As a trainer, people need to be able to trust that you have some expertise in what you are training. A way to demonstrate your expertise might involve offering to mentor new teachers in your current workplace, offering to give INSETTs or engaging with the broader profession such as submitting articles to ELT magazines or even presenting at conferences. I did all of the above and that gave my CV extra depth and meant that if there was any teacher training overtime offered, I was often quite high up on the list in my centre. Start off small with some mentoring and writing short articles in order to get a taste of it and later you can build up to bigger things.
Be prepared to do stuff for free
Nobody likes to work for free, but with teacher training it sometimes feels like a catch 22, because often employers want trainers with experience but at the same time, how do you get experience if they only want to hire people with experience? The first time, a few years ago, that I was offered some part time teacher training work, I had to shadow an entire course cycle first before I could be a tutor. This of course was unpaid. It was not always so much fun fitting in shadowing a week long intensive block of 20 hours of shadowing around a 38 hour working week but sometimes you just have to swallow it and get on with it. Getting that initial experience will be worth it when later you achieve your goals.
Be prepared to make sacrifices to get what you want
After training part time for a few years, I finally felt that I had enough experience to go for my first full time training post. I started to look around at other opportunities and realized that there was actually very little full time training work available where I was living at the time. I did see a couple of jobs listed on the other side of the world. While I certainly hadn't planned on making an international move, it did seem like if I wanted to achieve my goals I would have to consider it. I applied and ended up taking the job and relocating to Hong Kong. In a way it was funny because I literally was in the wrong place but at the right time. One year on I have zero regrets and still consider it to be one of the best career moves I ever made. If you really want to find that full time training job, be prepared to be flexible in terms of location, the type of institution you work for and the types of teachers that you train.
All in all, I think accrediting an opportunity to pure luck means that we are less likely to take concrete steps to achieve what we want. Yes, there may be a moment when you are in the right place at the right time, but you also need to be ready to take that opportunity when it arrives.
Want to meet our teacher training team? Join them for one of the regular professional development workshops held throughout the year in our Hong Kong training centre.
Eve Conway is our TYLEC and CertTESOL trainer. She has worked in Spain, Vietnam and Mexico as both a teacher and TYLEC trainer as well as having worked on shorter projects in the UK, Italy, Azerbaijan and Peru. She worked for over 6 years for the British Council, where she discovered a love for working with children, particularly Early Years learners. Eve holds a bachelor's degree in English language as well as an MA in Applied Linguistics and a Trinity DipTESOL. Having always loved languages, she is a fluent Spanish speaker and is keen to learn more languages. Eve is a keen conference speaker and occasional writer for ELT magazines and publications.