Top books for new teachers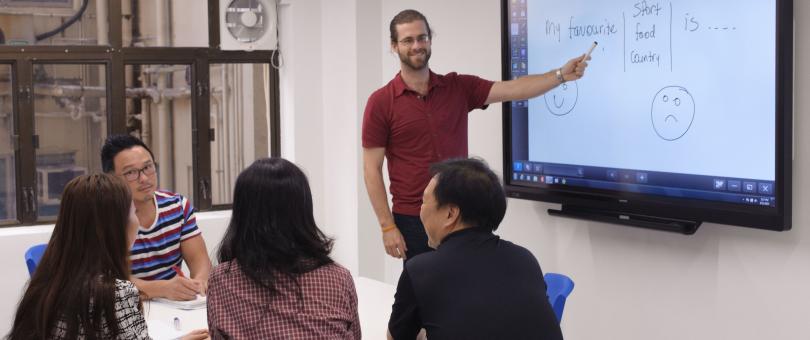 Following on from last week's post about online resources for new teachers, this week we look at our top suggestions for our favourite print materials for new and developing teachers.
I remember when I first finished my Certificate course, and was offered my first full-time teaching position: one of the biggest issues I had wasn't lesson planning (although it still took me more than 2 hours to plan each lesson) but rather finding materials and ESL resources in order to lift my lessons off the page and keep my classes varied.
I was lucky that one or two of my colleagues took me under their wing and consistently shared their favourite resources and ideas with me.  So, here is a collection of top resources and books that I've used throughout my teaching career.  I've organized the collection into teaching areas: from language awareness, to methodology and ESL lesson plan ideas.  Finally, I've included some useful links to collections of books for those who are interested in on-going development and current ideas in English Language Teaching.
Language awareness: top suggestions for developing your linguistic knowledge
Grammar for English Language Teachers
This is a core text on most CertTESOL/CELTA courses – I certainly used it regularly on, and following my course.  The book is organized into challenging word classes and parts of speech.  It presents general rules of usage and then provides practice tasks at the end of each section.
Developing Grammar in Context
While technically this is a book designed for intermediate students, I learned a lot about language from using this book.  The book is organized into mini lesson plans, materials and practice tasks for each language point, but more importantly it presents all language in context and the practice activities frequently ask students to discuss differences in meaning between various options rather than more traditional fill-the-gaps-with-the-present-continuous-passive-modal form of a verb.
Phonology: brushing up on pronunciation might not be stress-free, but it can be interactive
Sound Foundations
This is a practical and comprehensive resource for furthering your understanding of English pronunciation.  It is useful for new and experienced teachers, and includes an interactive DVD, ideas for teaching features of phonology and challenging reflective practice tasks throughout each chapter.
Pronunciation games 
If you're not so comfortable teaching pronunciation – or are unsure how to make pronunciation communicative and interactive, this book covers common aspects that are relevant to students ranging from elementary to intermediate.  You may be the type of person who prefers to learn about a topic by trying it out in class – then this might be a good place to start for developing your understanding of pron.

Teaching methods: Some guidance on approaching planning and teaching
TESOL: A Gateway Guide for Teachers of English
Originally designed for teachers considering taking, recently enrolled in or newly graduated from a CertTESOL/CELTA course, this is a comprehensive introductory guide to a broad range of methods and language awareness topics in TESOL, and includes regular tasks throughout the chapters for you to work on as you read.
How to teach series
Scott Thornbury is widely seen as a TEFL guru – and has published many resource books for teachers during his career.  His How to Teach series covers grammar, vocabulary and speaking and present practical lesson plans for implementing core concepts.
Lesson Ideas: practical resources for busy teachers
700 classroom activities
This would make an excellent resource for those looking to expand their repertoire of lesson ideas, or those who regularly need to cover classes at the last minute.  It is organized by both language area, and by topic and has been remarkably useful throughout my life as a teacher.
Recipes for tired teachers
A great all-round communicative resource.  Full of highly interactive tasks that will encourage integrated skills practice and provide stimulating opportunities for communication between all your students.  This is an ideal resource for the cover teacher!

Skills: integrate skills in your lessons to get more out of your learners
Listening/reading/speaking/writing extra
One of the most flexible and practical series of books I've used, each one is organized by topic, and within each topic there is a complete lesson plan for elementary, intermediate and advanced learners.  The lessons are generally comprehensive, integrate skills and vocabulary well, and provide interesting extension tasks.
Taboos and Issues
This is a super-useful resource for teachers of intermediate to advanced students that is guaranteed to get your students talking about challenging issues.
Teacher development: Looking for a bit of a challenge in your teaching career?
The Round
The Round is an independent ELT publishing collective who offer a range of short e-books on many different topics from practical speaking ideas to English for the zombie apocalypse.  The books are generally very cheap (being digital publications) and written by experienced teachers and trainers.
DELTA publishing
DELTA publishing has released some very good resources that are particularly user-friendly.  They specialise in young learner and teacher resource materials, and if you sign up to their email, they also send out monthly materials from new and upcoming publications for you to try out.