Teaching jobs in Hong Kong: the secret life of a teacher trainer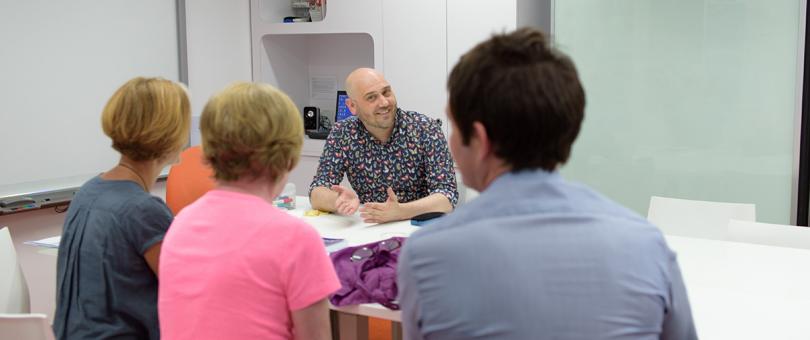 Some of the most common questions I hear include:
Hey, how did you get your job?
What do you need to do to become a trainer?
So do you get all summer off?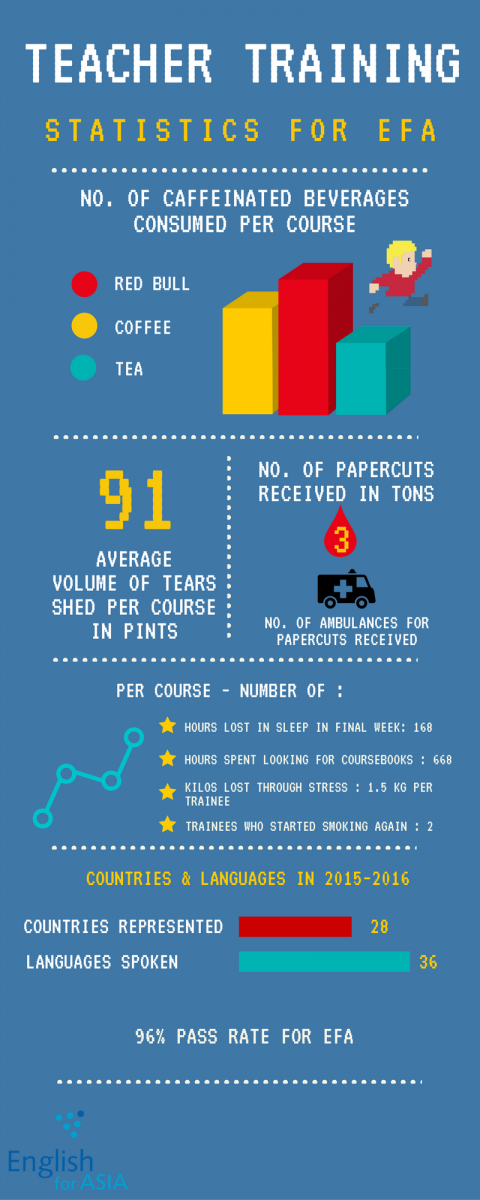 Contrary to what many people assume about language teaching, most of us work within the constraints of the private sector. This has many advantages – and many facets that people new to the profession might not appreciate yet. For one, when your students are paying to be in your classes, you are typically dealing with highly motivated and focused learners. Alternatively, when you have younger learners who don't necessarily choose to be there, you need to work more closely with parents and schools to negotiate a classroom environment that will encourage your students to "buy in" to your lessons.
This is particularly true in Hong Kong, where teaching jobs can require teachers to deliver lessons to students as young as 12 months, adults preparing to take an international exam, and informal conversation lessons on Saturday afternoon.
These are just some of the challenges that working in a diverse industry like ELT can offer. Within that, there are a diverse range of opportunities and roles that teachers might like to work towards, including working as a teacher trainer.
Skills and qualifications
What many people don't realise is that there are many types of training roles to be filled within English language teaching, from programmes with local schools and businesses, to getting involved in training for other teachers in their staffroom (sessions commonly called INSETTs: In Service Teacher Training). Most of the time, teachers in these roles bring a wealth of experience and enthusiasm for continuing professional development. 
The British Council jobs vacancies website is a good reference point if you're interested in getting an idea of these types of roles, as they tend to offer lots of in-country support to local schools and organizations in the way of training. Another good resource for these types of jobs is the International House World Organisation jobs page – you'll see lots of opportunities for senior teachers and teacher specialists (e.g. Young Leaners) here too.
While it largely depends on the school and the context in which you work, many trainers working in these positions have a number of years' experience in several different contexts (e.g. working with adults, exam preparation, young learners etc.).
There are also often training roles which focus on preparing new teachers, or teachers planning to gain formal qualification in ESOL, such as CertTESOL, CELTA or Grad. Dip. TESOL  courses. These training roles typically require trainers to hold higher-level teaching qualifications like a DipTESOL or MA (especially if you are working at a university) – though in some cases trainers who are currently working towards completing one of these higher level qualifications could be considered suitable for a training role. Part of the pre-requisite of these higher courses of study is a minimum period of teaching experience which equips you well to deal with challenging questions from new trainees, and to give specific guidance on lesson plans and assignments.
Typical schedule
So what's a typical day like working on a teacher training course? Well, naturally, that depends entirely on the course that's being run and the types of teachers being trained. On the CertTESOL courses we run in Hong Kong, we could potentially have up to 33 or 35 trainees studying at the centre at any one time on top of external projects and training courses we offer throughout the year – so the office can be a very busy place. But here's a quick look at what a typical day might look like.
8:30am
The centre opens, many of the trainees are already outside waiting, as their teaching practice starts in about 45 minutes, so there's plenty of planning and photocopying (and stressing out!) to be done.
8:45am
All the trainers have arrived and are offering last minute advice to trainees who still need some last-minute guidance on plans, assignments and ideas from yesterday's input.
9:05
The photocopier breaks down, sending the centre into momentary chaos. Luckily, it's a simple one this time: removing the torn piece of paper from tray three resolves the issue and the back-log of print jobs from the study centre resumes printing, and clears in a few minutes. Crisis averted!
Meanwhile, teaching practice (TP) students start flooding in. There are three classes running this morning: elementary, pre-intermediate and intermediate.  We're expecting about 20 to 25 students in total, so it's important to get them into classrooms early so that trainees still have space to move around, access the copier and get their lessons ready.
9:13
The water bottle for the water cooler is empty, thirsty/nervous trainees start lining up to get their last-minute pre-TP glass of rocket fuel, but the cooler runs dry.  One of the trainers is able to quickly replace the water bottle, causing only a momentary delay in the commencement of TP for the morning.
9:18
All three TP classes are now underway. In each classroom, students are settling in for the long-haul, nervous trainees are pacing the front of the room, waiting for The Nod from their trainer, their peer observers are fumbling through their bags and folders frantically searching for their observation notes proformas (I swear I printed it off yesterday!) and the three trainers observing for the morning start thumbing through the submitted lesson plans and materials and putting details down on the assessment sheets.
9:30am
One of the trainers who is not observing this morning is now settled at their desk, fielding questions from the trainees who are not teaching this morning. Typical questions on an average day might include: What does your handwriting say? Is it ok if I use Comic Sans for my assignments? What's the different between an ICQ and a CCQ? When you say I need to use less TTT, how do I teach them grammar without explaining it to them? So, this learner profile….what's that about, then?
10:00am
The first lesson has finished, and TP students pile out of classrooms to grab a quick cup of tea and reload on fluids before the next lesson begins. Trainees teaching in the second lesson frantically clean the whiteboard, and nervously run a few ideas past their observing trainers: I was going to use black pen instead of blue here, do you think that's ok? There's only 7 students, I planned my lesson for 8….what do I do?!?!
10:45am
Trainees who are not teaching, or those who have finished nervously gaze through the classroom windows to see if the student they have used for their learner profile assignment is at school today. Some of the trainees are in luck, and manage to grab their learner for a quick meet up, or two deliver their 1-2-1 lesson for this major assignment on the CertTESOL course. Several of these additional 1-2-1 lessons crop up in the far corners of the teaching centre, adding a warm and inviting hum of academic activity to the background sobs and screams cries of joy and excitement escaping from the classrooms.
11:30am
The final TP lesson has concluded, meaning TP students are now free. They bolt for the door, with their enthusiasm for life lying in broken pieces behind them in the classrooms now shining more strongly than ever….and in English too! Trainers round up the trainees and remind them to complete their immediate post-lesson feedback before formal group feedback begins.
11:45am
Trainees, still high on the post-lesson buzz, have done nothing for the last 15 minutes but chat about how annoying that student was today and how they feel like they messed their lessons up. Trainers gently remind them to finish their feedback immediately so group feedback can begin.
12:00pm
Having waited for 30 minutes, trainers call an end to the rebellion, and so group feedback begins. It turns out one of the trainees has decided that they wanted lunch instead of turning up for feedback, but the show must go on!
12:30pm
A much needed lunch break for all. Many of the trainees set up their laptops in classrooms to work frantically over a cheap polystyrene bowl of noodles and spam, marinated in MSG, from the local cha chaan teng down the road. Others cram around the bar, politely sharing the microwave with others, while some look distastefully at the lunches they brought with them today slump in their seats, letting out defeated sighs of resentment and offer some of it to their peers….a kind of international picnic, if you will. Over the lunch break, trainers get together informally to discuss the highs and lows of the morning's TP: how did it go? Did everyone pass? Any shining lights? Who has the grade sheet open? Why won't it save? Ah, now I have to save it as a copy, and then delete the old one and now rename the copy I just made so it becomes the new original file….ugh.
1:30pm
Input for the afternoon begins. This afternoon's sessions focus on teaching functional grammar, and using songs in the classroom. The occasional round of laughter wafts out from between the cracks of the doors – it would appear everything is jolly good in Narnia. As one trainer leads the group through the afternoon sessions, there are lots of admin duties to attend to: interviews for new applicants, planning for upcoming CPD sessions and training workshops we run with external clients, facebook status updates to script….you know…a typical day in an office.
2:45 pm
After a short break, another water bottle change at the water cooler (the third for the day…..is this a course load of camels? Is course load the collective noun for camels?) the trainers swap over and the session on using songs begins. We finish the session with a 15 minute lesson planning session to use a song that the trainer has selected – today the trainees are working on Criminally Insane, by Slayer, God of Emptiness, by Morbid Angel and Friday, by Rebecca Black.
4:00pm
The trainees are now in supervised lesson planning (SLP). Despite it occasionally feeling a bit like a full-on-every-man-for-himself-brawl a supporting and productive session preparing the trainees for their upcoming lessons this week, all of our trainers are now working with small groups of trainees, helping them to select material and refine the focus of their lessons so they will be fully prepared to deliver them when they arrive tomorrow.
A lot of the SLP session revolves around formulating aims, selecting appropriate materials and identifying target language. Early in the course, trainees often need a lot of input and advice on this, though there is an expectation that this will be a more automatic process by the end of week 3 and 4.
5:00pm
It's home time: the trainees rush for the door to begin an all-night session of writing up assignments, reflections and lesson plans, while the trainers go off home, with a glass of wine in mind. Happy planning….look forward to seeing you all again tomorrow ☺