5 things you didn't know about language teaching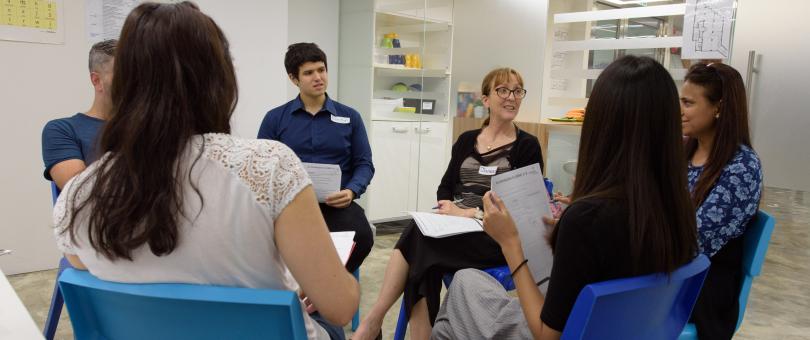 Let's start with some common myths about TEFL
We think it's time for you to settle down and get a proper job.
This was what welcomed me in the weeks after I initially complete my teacher training TESOL certification in 2008, having decided I didn't want to go back to university to complete an Honours or MA, and needed some time to figure out what I wanted to do with the rest of my life.  I had just returned to Australia that week after studying abroad, and was faced with some pretty inquisitive commentary from friends and family.
Why would a high-achieving, academically independent young person ever choose a career like that?
Well to be honest, language teaching wasn't a career choice.  It was a way to buy myself some thinking time.  That was eight years ago – and since then I've lived and worked in 4 countries across 3 continents, and led me to work for the last 4 years as a TEFL teacher and trainer in Hong Kong.
I would still suggest that many of the criticisms and beliefs about what it means to be a language teacher, the "type" of people who choose to do it, and the reasons they choose to do it persist today, stronger than ever.
I wonder if any of these commonly held beliefs ring true for you:
You only become an English teacher if you've got no other choice (sounds strangely like the "those who can do, those who can't teach" mantra, don't you think?)

Anyone can become an English teacher

It's perfect if you want to just travel around the world for a while, but you'll never make a serious career of it.

Native speakers make the best teachers (i.e. you can only teach English if you're white, or grew up speaking English)

At least you can always go back to teaching if nothing else works out.
I've come across variations of all of these at some point in the last 8 years – and while I can understand where they come from, I hope to outline my reasons for clarifying why they are all misguided.
A bit of background
Before we get into the specifics, it's worth giving you a bit of background into English teaching as an industry.  Not language teaching – people have always been learning languages – but more specifically English teaching in the private sector.
As international travel became more and more popular in the 20th century, there was a parallel rise in the number of people interested in learning languages, perhaps (though I am only speculating here) related to the rise of the US and Anglo-centric international powers emerging at the end of the second world war.
In the 1960s, there was a small group of schools called International House run by John and Brita Haycraft. They found themselves in a position whereby they needed to expand and they felt the business needed some kind of quality control measure to deliver maximum training efficiency to the largest number of novice teachers possible, so they started applied a kind of corporate model of training in the form of short intensive courses that prioritized practical experience above theoretical input – and the Certificate in Language Teaching to Adults (CELTA) was born.  Technically it wasn't actually CELTA back then – the teacher training course that Haycraft and his wife developed would go on to be adopted by the RSA and then by Cambridge ESOL before adopting the name CELTA.
The premise of this remains essentially the same today: to provide standardized training in the most efficient way possible to the largest number of people as practical.  Today, the reality of this is extremely intensive 4-week (full-time) courses being run around the world, which provide internationally-recognised certification for those wishing to enter the English language teaching profession.  Whether or not the needs of the industry and the schools running these courses remains the same is it was for the Haycrafts is a discussion for another day.
However, in light of this, there are 5 things you should probably know about language teaching….
1) Language teaching is one of the hardest things you can do
Having worked with new, experienced and pre-service teachers for a number of years, and having seen the response people tend to have to the initial teacher training courses (i.e. CELTA or CertTESOL) and also the higher-level diplomas (i.e. DELTA or DipTESOL) and MA programmes – the response is unequivocally the same: the 4-week intensive courses are about the most challenging thing most people will ever have to do (we are of course excluding many occupations from this generalization….soldiers, CIA operatives….brain surgeons….astrophysicists….I'm sure you all work very hard for your position in society!).
How could this possibly be?
Officially, according to OfQUAL, CertTESOL and CELTA courses are listed as "level 5" in terms of degree of difficulty.   This means they are equivalent to "second year undergraduate study".  This is certainly a fair observation in light of the content of most of these courses. What it doesn't take into account is the context in which this content is intended to be acquired.  In fact even at the higher, diploma level (which is rated at level 7 by OfQUAL), even those colleagues of mine who have also taken MA programmes say that the DipTESOL/DELTA qualifications are significantly harder.
Firstly, many of the trainees on certificate courses we see are changing careers.  Having worked in corporate accounting, or law, or finance, or other sectors of education for 10, 20, 30 or more years, often they have decided (as one or two recent applicants told me) to "look into something I've always wanted to do but never made the time for".  In this context, you have people who have been very good and effective in one career for many years, being put in a situation where they are total novices (and often having to unlearn certain behaviours) and while they do this, they are being observed in the classroom AND being assessed on this. Make no mistake, this is an extremely difficult adjustment to make.
Secondly, a typical day on a 4-week course involved being at the centre at 8:30am, ready to teach at 9.  After 3 hours of teaching and observation, you have a 30-45 minute session of analysis of your performance, followed by another three hours of theory and input.  Before you leave, you then have to run some ideas by a trainer for your lesson the next day, so if you leave at 5:30, you're doing well.  You then spend 45 minutes travelling home (It's now 6:30).  Most people spend between 3 and 5 hours planning a lesson for the next morning (It's now 10:30).  You also have written assignments to complete in addition to teaching, of which you might have up to 2 or 3 running concurrently, so you spend another 2 hours on those (it's now 12:30). You still haven't had dinner, had a shower, spoken to your family or checked your email, and you've got to be up at 6, to get to the teaching centre for 8:30 to do it all again tomorrow.
Finally, on Cert and DipTESOL courses, the weighting of grades is on the practical side of things.  The implication of this is that even if you write an amazing essay, or score well in an exam, if you can't deliver this theory in the classroom, your grades suffer.  This is very different from many fields of study in which assessment typically consists of a collection of lectures, participation in seminars and your ability to formulate your knowledge in essay format.
2) The TEFL industry is actually extremely diverse
In my experience, people rarely finish university studies with an aim to become a language teacher.  Most transition into teaching after trying out other careers.  It's also a relatively easy career to get into: you pass an initial application and interview (and yes, people do fail to pass these), you survive a tough four week course, and you're away (and yes, people do fail to pass these too!).
But as a relatively convenient option for those who are looking for an alternative soured of income, English teaching is therefore a career option for an extremely diverse range of people, with an extremely diverse range of backgrounds and skills.
In my time, I've worked with social workers, film makers, primary teachers, vice-presidents of international banks, actors, financial advisors, models, stay-at-home parents, volunteer co-ordinators, historians, authors….many of whom come from countries like Canada, New Zealand, India, Pakistan, Kenya,  Nigeria, Singapore, Italy, France. You get the idea.
Now do you know any brain surgeons, engineers, pilots or astronauts who can make such a claim?
If you do, I'd love to meet them.
The point is that not only is the pathway into language teaching a very challenging one, it also provides a range of professional diversity that many professions do not (as a result of the extremely selective pre-requisites set for entry into those professions).  This offers those in language teaching a fascinating insight into a range of people from many different walks of life, and friends from all over the world.
3) Most English teachers didn't speak English as a first language: they were students once
A little known fact is that the majority of English spoken, and the majority of English taught around the world is by people whose first language isn't English.  English is often a compulsory component of primary and secondary curricula in non-English speaking countries, and some  such as Colombia also mandate that students reach a specific level of English (by passing an international exam) before they are allowed to graduate.
Many of students in these situations find themselves in classes taught by people who were once students too.  This has many advantages, the least of which being that if your teacher has gone through the same experience then they can often sympathise with your position as a learner and anticipate problems you're likely to have.  It's also true to say that, as a generalization, the trainees we see on our courses whose first language isn't English tend to perform better on assessments of language awareness than those whose first language is English (and who never had to formally learn the language themselves).
Despite this, there remains a persistent misnomer that you learn English more effectively from a native speaker.  This is extremely unfortunate for many reasons.  In fact, what constitutes "native speaker" is itself very hard to define.  In addition, there is a lot of research that shows that many students prefer to be taught by a teacher who speaks the same language they do for additional support. 
Furthermore, this "native speaker fallacy" is often overextended by private schools to mean "white" or "from Australia, Canada, England etc".  Not only is this illegal, it is also detrimental to the quality of teaching in these schools and the overall development of the profession.
4) There is more to English teaching than teaching English
As a graduate of a CELTA or CertTESOL there are an enormous range of career pathways.  Location is often the reason people opt to take a course like this.  Most schools in Australia, The UK, New Zealand, Canada and all British Councils will not accept teachers without one of these certificates.
However, it's worth pointing out that very few industries offer such breadth of employment contexts upon initial certification.  Anyone with a CELTA or CertTESOL could find themselves teaching students as young as 12 months through to 18 years up to senior citizens.  Alternatively, you might find yourself in front of executives from companies such as SIEMENS, Samsung or HSBC learning how to conduct meetings and business negotiations in English.  I've known of Business English classes to be made up of people from all walks within a company, from cleaners right through to senior executives.  Another common option is to be working with newly arrived immigrants, such as in programmes like the AMEP (though an additional certificate in testing and assessment is often required, depending on local requirements), or perhaps you'll find yourself working with students who need to pass an exam in order to be accepted for university study in a foreign country, or to be able to move their family to a new country to start a new life.
In fact, it's not unreasonable to find yourself working in 2 or 3 or more of these contexts in any given working week – this is one of the great stimulating realities of working in language teaching.  Very few industries offer such breadth of possible experiences or opportunities to specialize.  For some this is an unsettling reality, for others it keeps their week-to-week as interesting and challenging as the next.
And that's just what you might end up teaching.  Career opportunities also exist in the development of materials and tests, preparation of online courses and content, training and teacher education, providing exams and assessment for learners of English and management of language institutions.
5) You can make a comfortable living teaching English
Finally, there persists the myth that you'll never get rich teaching English.  I'm not here to tell you this is a lie.  I'm here to tell you it depends where you work. 
Very few industries allow you to work so freely in almost any country in the world, and each country has its own intricacies in terms of cost of living and relative salary – which makes this is an impossible myth to disprove by comparing salaries directly
I've heard of salaries ranging from as low as 8 British Pounds an hour to as much as 80 Australian dollars an hour.  I've worked in countries where monthly salary was lower than $1000.  It all depends on the location, context and average cost of living. Indeed, in many places it is common practice for schools to offer full-time contracts that run for only 10 months of the year, leaving teachers to find additional hourly-paid work over the quieter summer or holiday periods.  Yet some of these seemingly low-paying positions might also include accommodation subsidies or transportation costs.
Having said that, there are places where, on average, there is work that pays relatively well.  In terms of countries, these tend to include those in the Arabian Gulf, Hong Kong and South Korea, as well as positions working for universities (teaching undergraduate students or students on pre-study pathway/bridging courses).  In addition, positions in higher levels of management and training also tend to offer slightly better pay (obviously, you'd expect a bit more cash if you have more experience and qualifications).  And without wanting to sound like your mother, you're not going to save very much money if your idea of econimising is to only drink beer from 7-11 because it means you can afford to drink more. 
While you're unlikely to be pushing a 6-figure salary, it is possible to live comfortably and enjoy a relatively stable lifestyle (though your working hours may not be!) – I know of several colleagues who have managed to save a significant amount towards a deposit on a new house in matter of years by being frugal and living within their means while teaching English. So really, the myth that you won't get rich teaching English is a myth that is as impossible to falsify as it is to prove true: it all depends on where you work and the lifestyle you lead.
So now it's over to you:
Do you or anyone you know currently teach English? What myths have you come across? Are any of them true?
Have you ever considered teaching English? What's stopped you trying it out?
James Pengelley contributes to the TESOL team as a CertTESOL/DipTESOL trainer as well as one of EFA's digital content managers.  He holds a Cambridge DELTA, Trinity TYLEC and is currently completing a postgraduate diploma in teaching (secondary).  He has made multiple contributions to English language teaching publications, including the English Australia Journal, The British Council and the International House Journal of Education and Development, which you can read here.